Research Highlights
BGC Feedbacks Researchers Report the Latest Global Biogeochemistry Science and Host the ILAMB Town Hall Meeting at the American Geophysical Union (AGU) Fall Meeting in San Francisco
December 7, 2015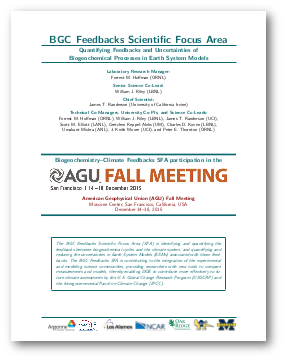 At this year's American Geophysical Union (AGU) Fall Meeting, researchers from the Biogeochemistry–Climate Feedbacks Scientific Focus Area (SFA) will present their latest research results and convene or chair six (6) sessions focused on global biogeochemistry and feedbacks with the climate system. In addition, they will host a Town Hall Meeting focused on recent contributions to benchmarking software for the International Land Model Benchmarking (ILAMB) project.
Some 28 U.S. Department of Energy (DOE) National Laboratory scientists, university professors, postdocs, and graduate students associated with the BGC Feedbacks SFA will converge on San Francisco December 14–18 with nearly 24,000 other researchers to participate in the 2015 AGU Fall Meeting. These scientists have contributed to at least 38 oral and poster presentations slated to be delivered during the week at the meeting, which is held annually in San Francisco's Moscone Center. Of particular interest is the ILAMB Town Hall (TH15C), which will convene at 6:15 p.m. on Monday, December 14th in Moscone West room 2006. During that session, SFA scientists will discuss and demonstrate the results of their continuing development of metrics and diagnostics for benchmarking terrestrial biogeophysical, hydrological, and biogeochemical processes in Earth system models.
To help meeting attendees identify and locate sessions and presentations related to BGC Feedbacks activities, a project program has been produced containing an abbreviated schedule of all seven (7) DOE-related Town Halls, six (6) sessions to be co-convened or co-chaired by BGC Feedbacks SFA participants, and 38 presentations with BGC Feedbacks SFA participation. Moreover, the full abstracts for the Town Halls and presentations are provided in the sections that follow, along with information about the relevant sessions organized. This program shows the strong connections that the multi-Laboratory and university collaborative project provides between Earth system modeling, terrestrial ecosystems research, and large-scale data analytics.
The program is available by clicking the icon below. It is suitable for duplex printing. To print only the abbreviated schedule without all of the descriptions and abstracts, simply print only the first six (6) pages.
---